Fake Labor Export Company boss arrested over Fraud
Several Ugandans have fallen victim of a fake unregistered labor export company known as Miracle Recruitment Services International Limited located behind Old Kampala police station along Sir Apollo Kaggwa road opposite Daily Loaf Bakery in Dheli Gardens claiming to be an employment recruitment agency taking people for work abroad.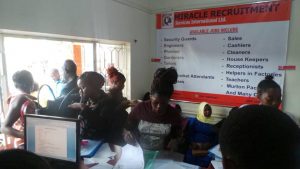 Law Development Centre (LDC)Court yesterday remanded Evaristo Ayebazibwe for allegedly conning over Shs212m from people promising them jobs abroad.
This comes after 70 reports of obtaining money by false pretenses were registered at Old Kampala Police Station vide CRB.628/2

018. The suspect was first charged on 6th July 2018 of 25 counts, convicted and sentenced to three years imprisonment however the file was today amended to a total of 70 counts.
He allegedly conned his unsuspecting clients promising to help them acquire jobs abroad. Various victims told court that standard charges had been set by the suspect where Ugandan foreign workers were expected to pay Shs10m Canada, Qatar Shs4.5m, Dubai Shs5m and Sharjah, United Arab Emirates Shs5m.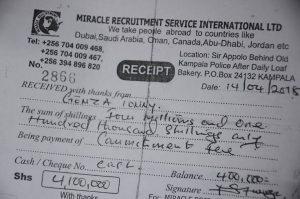 The suspect recruited several people, claiming that he could link them to the in charge of a Canadian employment Programme.
Everisto is charged of obtaining money by false pretense C/s 305 of Penal Code Act and operating a recruitment agency without a license C/s 38(1) of Employment Act of 2006, Regulation of 4 & 85(a) of Employment (Recruitment of Uganda Migrant Workers Abroad) Regulations 2005
The investigating officer in the matter, however, told the magistrate that several complainants have come forward and that the police are taking their statements with a view of laying additional charges.